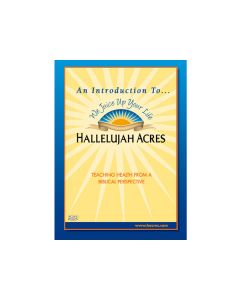 An Introduction to Hallelujah Acres (DVD)
$5.95
Description:
There was a time when the pace of life was slow and health was good. Diets were centered on an agricultural society with fresh vegetables and fruit being the primary source of food.

Today, with the fast pace of culture, every aspect of life has changed. Most families, as well as individuals, are so busy that meals must be squeezed in between scheduled events. Fast food and processed foods are being consumed more and more to provide convenience for our hectic lives.

These busy lifestyles have led to poor eating habits and have robbed us of healthy exercise. As a society we are less healthy and have many more physical problems than the generations before us.

Most of us are discontent with our current state of health. We want to lose weight, be free from our physical ailments, have more strength and energy, or be cured of a devastating disease.

It's time to start taking control of your own health and begin paying attention to your body's nutritional needs. A plan to achieve a healthy body does exist with many proven benefits.

There is a team of caring people at Hallelujah Diet® who will help you walk step by step through a proven process that can improve both your health and your quality of life.

Beyond advice, we will give you the advantage of being able to draw from hundreds of people with years of experience. Hallelujah Diet® is an organization that stands on a Biblical foundation and is committed to you. We promise to be dedicated, enthusiastic, qualified, and driven to help you in every possible way to be healthy and stay healthy.
Format: DVD-Video
Number of Discs: 1
Release Date: 2001
Studio: Halleujah Diet®
Language: English
Ask about this product