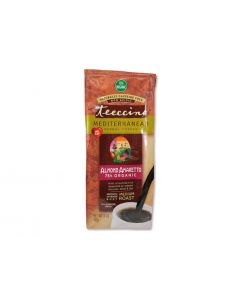 Teeccino Almond Amaretto Caffeine Free Herbal Coffee
$10.35
Description:
Teeccino Almond Amaretto Caffeine-Free Herbal Coffee: your favorite nutty coffee flavor is packed with nutrition, too!
Almond Amaretto isn't just another coffee flavor. It's millions of people's first choice for flavor. And now it's available as a delicious Teeccino herbal coffee—packed with nutrition and naturally caffeine-free. So you can have your Almond Amaretto moment day or night.
Originally created by Medieval monks, amaretto was a secret herbal elixir prized for centuries by the Italian elite. Today, it's among the world's all-time favorite coffee flavors. Teeccino captures this complex, sophisticated taste in a 75% organic blend of organic carob, organic barley, organic chicory, almonds, organic dates, figs, herbs and spices.
Medium-roast and slightly sweet, Teeccino Almond Amaretto is naturally caffeine-free and full of healthful antioxidants, potassium and soluble fiber. Like all Teeccino herbal coffees, it's gluten-free.
Teeccino lets expectant moms and caffeine quitters—even kids!--enjoy rich, sweet Almond Amaretto flavor.
Gradually going decaf? Instead of industrially decaffeinated coffee, blend all-natural Teeccino with regular coffee to cut caffeine and acidity.
Teeccino Almond Amaretto Caffeine-Free Herbal Coffee includes ___ brew packs. Each packet makes __ cups of herbal coffee.
Ask about this product