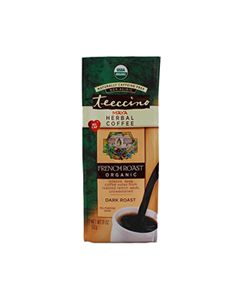 Teeccino Maya French Roast Caffeine Free Herbal Coffee
$10.35
Description:
Teeccino Tee-bags make brewing Teeccino easy and convenient at home or on the go! Each Tee-bag contains 6g of Teeccino. Regular tea bags only hold 1 - 2g. Teeccino Tee-bags have more than 3 times the product as regular tea bags to create a full-bodied brew. The exact same Teeccino grounds are in the Tee-bags as in our 11 oz bags. Tee-bags are simply Teeccino in a filter bag. Each Tee-bag is individually wrapped in an envelope to seal in flavor and make it easy to transport wherever you go. Unbleached tea bag filter paper 100% recycled carton: 50% post consumer material
Health Benefits
Antioxidants from carob, barley and ramon seeds
Naturally caffeine free — no processing or chemical residues
Non-acidic — helps restore alkaline balance Natural energy boost — from nutrients, not stimulants
Contains heart-healthy potassium
1g of soluble fiber per serving
Prebiotic - inulin from chicory root supports beneficial microflora that improve digestion, regularity and intestinal health
Brewed Teeccino is gluten free as verified by independent laboratory tests
Ingredients:
Roasted organic carob, organic barley, organic chicory, organic ramon seeds, natural coffee flavor. May contain trace amounts of almonds.
Ask about this product