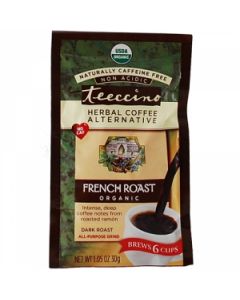 Teeccino Sample Pack French Roast Herbal Coffee
$1.99
Description:
Teeccino Maya Herbal Coffee Sample Pack: caffeine-free cups of rich flavor
Who knew that herbal coffee could be so hearty and satisfying? Teeccino Maya Caffe Herbal Coffee has deep, dark-roast flavor that makes every serving worth savoring. And because it's caffeine-free, you can enjoy it morning or evening.
Teeccino Maya Caffe is made from organic ramon nuts, which create rich, robust taste in every satisfying sip. The nuts are harvested wild in the Maya Biosphere Reserve in Guatemala. (Teeccino donates 1% of sales of the Maya flavors to support nutrition and education programs for Central American women and children.)
Naturally caffeine-free (not industrially decaffeinated!) Teeccino lets expectant moms and caffeine quitters—even kids!--enjoy a warm, healthy beverage break any time of day or night. Teeccino can be blended in with your regular coffee to cut your caffeine and acidity intake.
Nutritious as well as delicious, healthy Teeccino herbal coffees are rich in antioxidants, potassium and soluble fiber. All are gluten-free.
Ask about this product