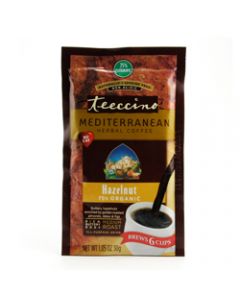 Teeccino Sample Pack Hazelnut Caffeine Free Herbal Coffee
$1.99
Description:
Medium Roast - 75% Organic
The buttery rich body of Turkish hazelnuts and golden roasted almonds slightly sweetened by dates and figs, a traditional coffee flavoring in Turkey, compliments the deep roasted flavor notes of carob, barley and chicory.
Teeccino, America's best selling coffee alternative, is roasted and ground to brew and taste just like coffee. Coffee lovers desire Teeccino's nutritious health benefits with its natural energy boost. Now you can enjoy a steaming cup of deliciously rich, deep roasted, fresh brewed flavor that delivers all the satisfaction without the caffeine and acidity of coffee.


Ingredients:

organic roasted carob, organic roasted barley, chicory root, organic dates, almonds, organic chicory, organic figs, natural hazelnut flavor
Ask about this product