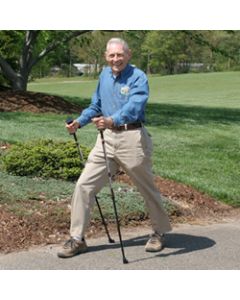 Exerstrider Walking Sticks
$89.95
Description:
Don't Just Exercise...
EXERSTRIDE!
Enhance the aerobic effects of walking while building upper body muscle strength and endurance for a total body exercise.
Exerstrider poles turn walking into a fun and more effective total body exercise with benefits similar to cross country or "Nordic" skiing. With Exerstrider poles you'll build more fitness in less time by simultaneously exercising all of the body's major muscles.
You'll love the added results you'll receive as you turn walking into a total body exercise that gently engages every major muscle with every stride. Every pair of Exerstrider poles come with a five-star rated instructional video as well as a printed manual and user's guide filled with valuable information designed to maximize your Exerstrider experience and results.
Two-piece high quality lightweight aluminum alloy construction
Plum/Dark Magenta, with silver graphics
Weight: 10.5 oz / 299 grams each
Ergonomic strapless grips for comfort
Adjustable from 41" to 51" to fit users 4'4" to 6'1" tall
Includes both carbide tips and Cushiongrip tips for varying terrain
Ask about this product