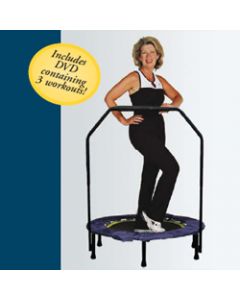 Urban Rebounding System
$129.95
Description:
Heavy Duty Mini-Trampoline Rebounder
Stabilizing Bar
Urban Rebounder Exercises DVD with 3 workouts
Now you can do Urban Rebounding in your home. In just 15 minutes a day, 3 times a week, the Urban Rebounder Low Impact Workout melts pounds of fat away, without any pain or stress on your joints. And its so much fun its the first exercise you will actually look forward to!
It also improves your balance and coordination, which is good news for athletes and seniors.
N.A.S.A. has been using rebounding to train their astronauts for years. One N.A.S.A study called rebounding a "miracle exercise". They found that rebounding was 68% more efficient than treadmills or other forms of exercise.
The Cornell Hospital for Special Surgery found in their study on Urban Rebounding that participants who used the Urban Rebounding Program showed nearly a 70% improvement in balance and coordination.
Includes super soft jumping surface, heavy duty springs, stabilizing bar, and 3 workouts on one dvd.
The Urban Rebounder is 40 inches in diameter. 10 inches high. Comes with 40" stabilizing bar, pictured.
*Recommended for people less than 300 lbs
Ask about this product