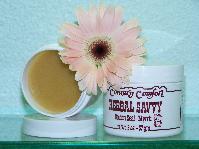 Country Comfort Golden Seal-Myrrh Herbal Savvy ~ 2 oz
$9.95
Description:
Country Comfort Golden Seal-Myrrh Herbal Savvy ~ 2 oz

The herbal properties of golden seal and myrrh gum powder combine to make an effective ointment. Use our Golden Seal-Myrrh Herbal Savvy for infections, cuts, wounds, hemorrhoids, shingles, psoriasis, eczema, scrapes, and any kind of sore.
This product has not been evaluated by the U.S. Food & Drug Administration. It is not intended to diagnose, treat, cure, or prevent any disease. All research information is provided for educational purposes only and as a courtesy to our customers and is not intended as a substitute for advice from your physician or other healthcare professionals.

Ask about this product