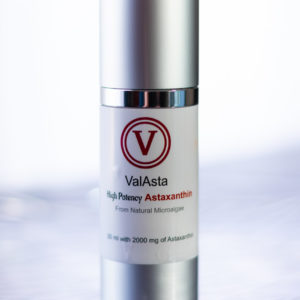 ValAsta Liquid Astaxanthin (50ML)
$120.00
Description:
Concentrated Astaxanthin in olive oil. Each Pump = 13.5mg of pure, natural Astaxanthin
Get 10% if you are a member of https://www.rawlifehealthshow.com/

3333 mg Astaxanthin per bottle
50 cc per bottle
each pump contains 13.5 mg Astaxanthin
Gluten & Dairy Free
Gel Caps included with purchase
DID YOU KNOW?
Astaxanthin is the strongest antioxidant and anti-inflammatory in existence, 1000 times stronger than aspirin.
Astaxanthin lowers blood sugar levels.
Astaxanthin lowers LDL cholesterol.
Astaxanthin is a carotenoid that occurs naturally in certain algae. It is used as a supplement, but also in food and agriculture.
Ask about this product