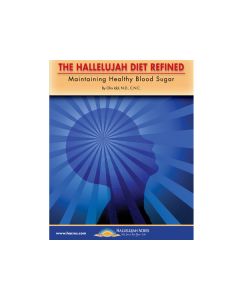 The Hallelujah Diet Refined: Maintaining Healthy Blood Sugar
$4.95
Description:
Approximately 20 million Americans are diagnosed with some form of diabetes every year, and millions of others have a pre-diabetic condition, putting them at serious risk of developing the disease. Frighteningly over the years, there has been a significant increase of diabetes in children.
But what is diabetes? Who is most likely to get the condition? What is the difference between Type 1 and Type 2 diabetes? And the most important question of all, how can we help prevent it or even equip the body to restore itself to a healthy blood sugar level and optimal health?
In this easy-to-read booklet, Olin Idol, N.D., C.N.C explores the many faces of this potentially deadly disease. He discusses some fundamental steps that others dealing with various blood sugar issues have used in transitioning onto the Hallelujah Diet® while maintaining stable blood sugars.
Author:
Olin Idol, N.D., C.N.C.
Paperback:
16 pages
Publisher:
Hallelujah Diet® Publishing (2007)
Language:
English
Ask about this product