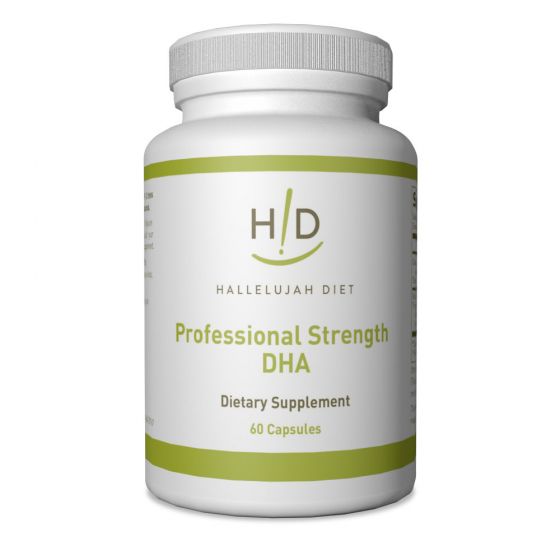 Professional Strength DHA
$49.95
Description:
Highest Concentration of DHA on the market!
Hallelujah Diet Professional Strength DHA is the most concentrated form of DHA available. In just one capsule you get a full 900 mg of DHA. You can replace 3 soft gel capsules of Triple Concentrated fish oil or more than 1 teaspoon of liquid fish oil with just one capsule a day!
Best Value
Why just DHA? You can actually make some EPA from flax seed oil, chia seed oil and other plant-based omega 3 fats, but DHA must come preformed, as only very trace amounts are made by your body. Optimal amounts of DHA must come preformed from your diet or dietary supplements. Why spend a lot of money buying EPA when what you really need is DHA?
High Purity
Hallelujah Diet Professional Strength DHA is produced by supercritical extraction, using CO2. This method shields the fragile oil from oxidation by oxygen and high temperatures and introduces no solvents or chemicals into the process. Our oil far surpasses the International Fish Oil Standards for oxidation, heavy metals and organic contaminants.
Benefits
Cardiovascular Health
Cognitive Function
Mental Health / Mood Stabilization
Joint Health
Eye Health
Supports normal non-inflammatory state
Ask about this product